It's Bits N Pieces time at Scraps N Pieces. Of course Leaving a Legacy Designs has a super cute contribution!! When the leaves start to change, so does the candy isle....Candy corn starts popping up everywhere! And not just normal stuff, there are other flavors like caramel apple, pumpkin spice, and even Starburst flavor!!(they are good, I promise!) Leaving a Legacy used this as her inspiration for her part of this month's BNP. Visit the store
here
and grab your copy!

This kit is such a fun fall/Halloween kit. Need some inspiration? Here are some layouts from the CT Ladies: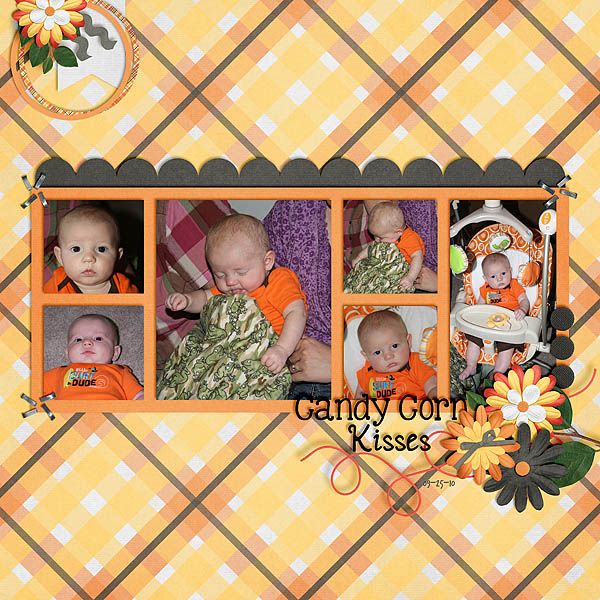 Next up Leaving a Legacy Designs has Bugs and Kisses as part of the Gingerscraps Buffet. Bugs and Kisses is all things spiders, spider webs and spooky. The element pack contains over 50 creepy elements, the strings and things pack has 25 strings, ribbons and bows that make a great addition to your pages. The paper pack contains 20 pattern papers and 7 solid papers. There is also a full spider web alpha, word art and journal cards to complete the collection. Buffet items are 50% off until Oct 05!
Here are some inspiration from the team
These next two layouts use a template set from Queen Wild Scraps: Flannels and Football Vol 2 (did you know she is sticking around at Gingerscraps!!!) Check out her store and watch for a grand opening celebration too!
How fun are these? Just wait she isn't done. Leaving a Legacy Designs has a THIRD kit out this week! As part of the Use it All Challenge at Scraps N Pieces she has released Get Lost. Get Lost is all about pumpkins, pumpkin patches, hay rides and corn mazes. You can grab a sampler of the kit
here
. The full kit, word art and journal cards will be 30% off this month and the bundle will be 50% off!
[caption id="attachment_8374" align="aligncenter" width="300"]
at Gingerscraps[/caption]
[caption id="attachment_8374" align="aligncenter" width="300"]
at Scraps N Pieces[/caption]
But wait, there is more...It is the first of the month and that means Bake Sale at Gingerscraps! Leaving a Legacy Designs has three fabulous kits on sale
Check out the other goodies as well...only $1 until Oct 5